We have recently updated our prices for 2023 wedding season. If you already have a quote from us then we will honour the price in the quote.
All day wedding photography packages starting from £1,250
All our packages include the following:
Two photographers all day, covering bride and groom prep through to your first dance.
We build our coverage based around your needs and requirements.
Professional colour correction and editing of all photographs.
Online password protected gallery.
Digital downloading of all images (approx 700+).
Flexible option to purchase albums at a later date.
Contact Us For A Quote:
Important: Check your "Spam Folder" if you don't get a reply within 24 hours!
Optional Extras
Pre-wedding shoot – £150
Additional hourly fee at weddings – £150
Deposit and payment
A deposit of £250 is required to secure your booking into our calendar and the final balance remaining is due 30 days prior to the wedding date.
Tailored Packages
We can build bespoke packages around your requirements. Shorter coverage options are also available for off-peak weddings and last-minute deals can be available. Please contact us for a quote.
The best quality printing
World renowned and award-winning wedding manufacturer Graphistudio now make all of our featured products.
The Sharing Book (Essentials Collection)
from £150 when sold separately
Detailed Information ›
The Young Book (Ideal and Finest Collection)
from £350 when sold separately
Detailed Information ›
The Display Book (Ideal and Finest Collection)
from £350 when sold separately
Detailed Information ›
The Classic Storybook (Ideal and Finest Collection)
from £350 when sold separately
Detailed Information ›
Why we use Graphistudio…
Graphistudio not only work exclusively with professional photographers, they also offer a Lifetime Guarantee on their products. Graphistudio use the highest quality HD printing techniques that guarantee their photographs won't fade over time (which all standard photographic prints will do). These products are not available from any high street suppliers and are much higher quality than anything you can buy yourself online. Having an album turns your wedding images into wedding photographs which will last a lifetime.
Better for the environment
Graphistudio uses eco-friendly printing techniques (Canon's HD printing) which does not use the traditional photographic processing chemicals (developer and fixer) and their setup also has less paper wastage too! We also recommend their faux leather products (Cloud Leatherette) as a 'green' leather alternative.
Please contact us with as much information as possible about your wedding day. If possible, include the date, venue and we can send you our latest package promotions. We have a range of packages available, including USB only and album packages.
What if you already have a specific album in mind?
If you already know a specific album you would like that isn't in the above collection, then please don't worry. We can source any products from any professional suppliers bespoke for you. For instance, these might include the luxury Australian Jorgensen albums. The UK produced MTA Magnetic Albums or Loxley Colour wedding books and designer frames are also a popular choice. As a result, we can always accommodate your request and quote competitive prices based on your requirements.
Full day service coverage
With 2 photographers the all day service starts from around 2 hours before the wedding ceremony and continues right through the first dance on the evening. The majority of the photographs are natural and candid, with a few posed up shots along the way based on your preference. We will tailor our wedding coverage around your wedding day plans, but here is an example of how we can cover the main parts of the day:

Bridal prep
We can cover the bridal party getting ready, with lots of natural shots whilst the hair and makeup take place. It is a great opportunity for me to capture the wedding details, including the flowers, the shoes, the dress. This is the start of your wedding story. Bridal prep is optional as we respect that some brides don't like the thought of photos of getting ready beforehand.

The groom and groomsmen
We cover the groom and groomsmen getting ready, some shots before the ceremony and capturing the rings and some details of the ceremony location.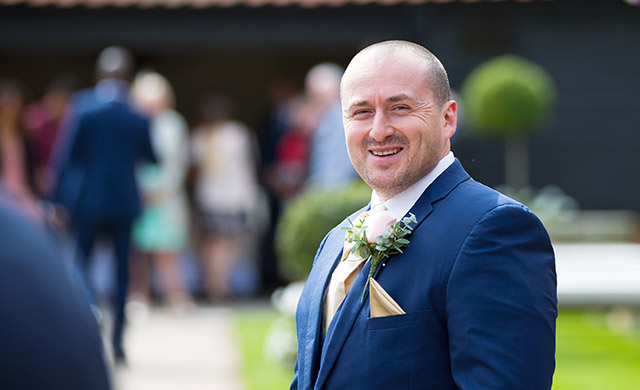 The brides arrival
Those moments as you arrive at the ceremony location and enter. This could also include photos with the car, and with your bridesmaids and parents.

The wedding ceremony
Non-intrusive coverage of your wedding ceremony including walking up the aisle, wedding vows, exchanging of rings, the first kiss and signing of the register. We like to capture the natural moments and real expressions of joy and emotion.

The friends and family group photographs
During your drinks reception we can take the group photographs of your choice. Before your wedding we can put together a small list of the group photographs you want.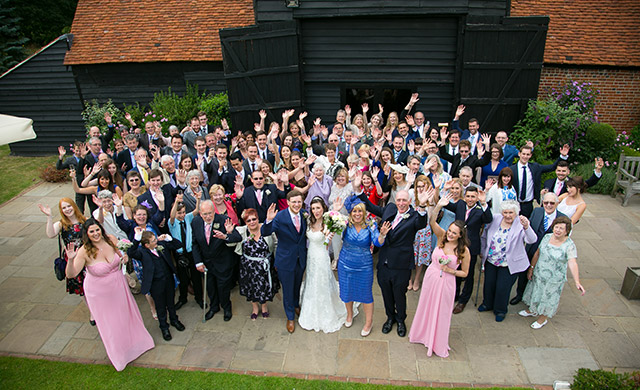 The wedding portraits
Utilising the beautiful backdrop of your wedding venue we will whisk you both away for a few minutes for some wedding portraits. We try to keep this relaxed and natural looking and capture the emotion between you both.

Candid moments
Throughout your entire day I will also take lots of candid shots of you and your wedding guests enjoying the day. These are the photographs that tell the true story of your wedding.

The speeches
We don't just capture all the table details before the wedding meal, we also capture the speeches. We are looking for reactions from the guests and photographs of the people making the speeches.

Sunset or evening portraits
Depending on the time of year, and weather permitting we try to capture a sunset or evening portrait shoot with you both after your meal but before your first dance.

Cutting the cake
The tradition of cutting the wedding cake and the fun with all your wedding guests cheering for you.

The first dance
We capture the first dance and we also take lots of candid shots of your guests dancing and having fun.
This is all only a guide as we tailor our service around your wedding day plans.